Sonicstar
Sonicstar
Interior design concept for the SonicStar supersonic aircraft project for Hypermach company.
Maximum cruising speed: Mach 3.6
Wingspan: 22.6 metres
Length: 64 metres
Following the opening of the Octuri website, I have been contacted by Bernard Rousset, representative of the Sonicstar project initiated by Hypermach company. It is a very ambitious project to develop a supersonic aircraft. I have been involved for designing their cabin interior concept.
This concept was created to show what might be possible inthe SonicStar, a supersonic aircraft being
developed by HyperMach. Taking an experimental approach, I jumped straight into the design working in my sketchbook and trying out the resultsusing 3D software. I was in control of everything – the design, colour and trim, lighting and 3D.
Feeling that the aircraft would appeal to both VIP and corporate clients, I created a cabin to accommodate both. This is my first approach, but a full VIP cabin is certainly possible, as is a fully corporate one. This design seats 16 passengers. If equipped as a corporate shuttle. I believe the SonicStar might accommodate 24.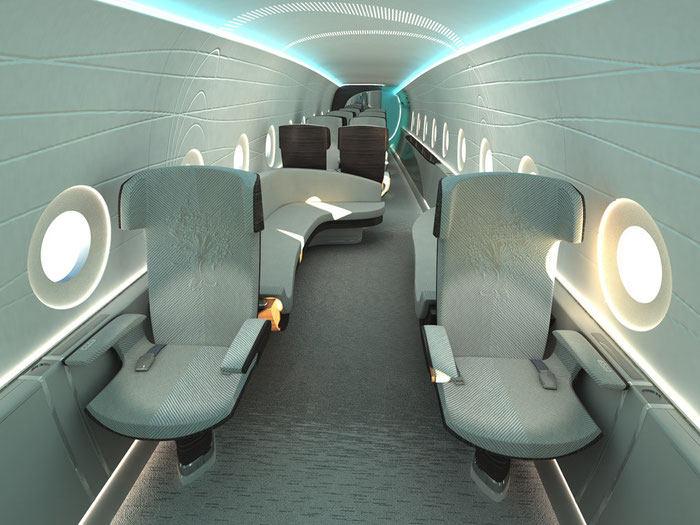 The aircraft's supersonic mission has influenced the design in a couple of ways. Firstly, as flights would be no more than a couple of hours long, I saw no need for fully reclining seats or a bedroom. Secondly, the windows are circular and smaller and fewer than those of a subsonic aircraft.
I had to make the windows seem wider. I tried several solutions, checking them using 3D software. Finally I decided on a simple circular solution, perhaps reminiscent of a spaceship. To create the
glowing effect, I incorporated an LED light strip in the circular recess around each window.

Regarding colour and trim, I was aiming for a sober look. I was determined to avoid tacky stuff, which can sometimes make its way into VIP aircraft.

Materials include a wool cut pile carpet with a shaded effect in the central social area, wool for the seat
covers, suede for the side panels, tinted locust wood for the seat shells, and steel and copper on some vertical panels.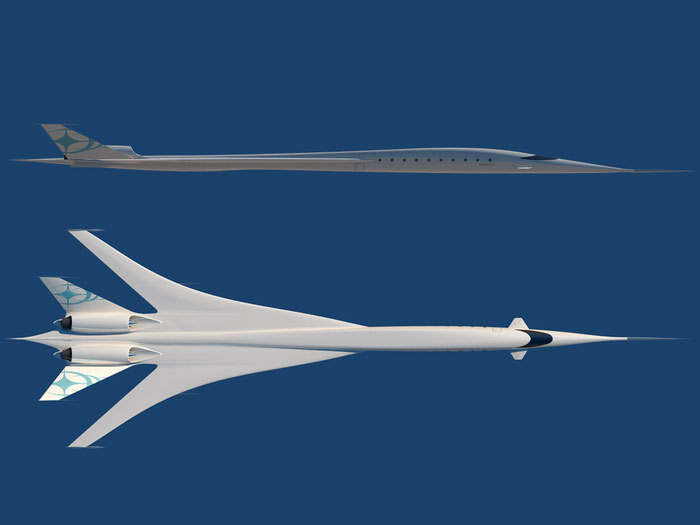 Sidewalls
The lines are designed to express speed and fluidity. I had to find a good balance, if the lines are too straight, you can't feel the speed.I also wanted to avoid a repetitive pattern. I made several trials, drawing in one type of software, then checking the result in 3D software.

Seat covers
The embossed effect is created using boutis, a traditional stuffed quilting technique originating from Provence, France. Traditionally, cotton or linen is used for boutis.To find a compromise suitable for an aircraft I decided wool was best for a woven seat cover.
VIP passengers
I did not want to show a typical business man in this type of aircraft so I decided to put in a photomontage picture of a charismatic old lady . She can smoke a cigar as she seems to be the lucky owner of this aircraft.
Thanks to Sophie Larochelle for kindly giving me the permission to use the Cuban Granny's photograph, smoking her fine cigar in the streets of La Havana.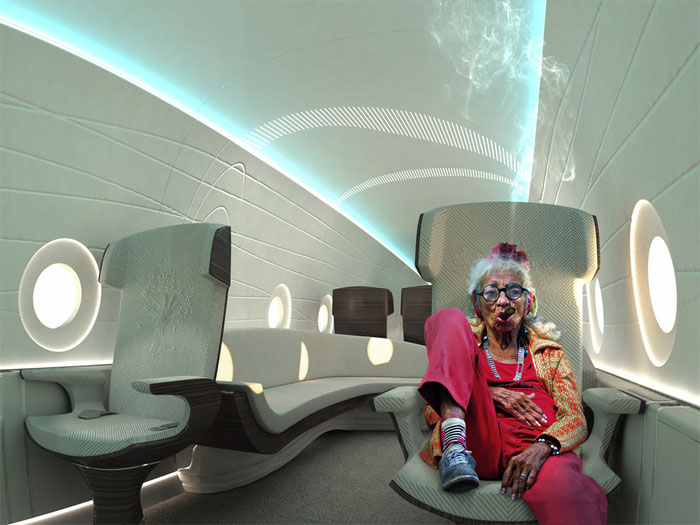 Galleys
The main galley is at the front. It's the best place for this fuselage. I defined the cabin layout first, before investigating the finer points of design. A lavatory and second galley are positioned at the rear of the aircraft.
VIP seating
The front part of the cabin features four VIP seats in two club-two setups. Although I felt no need to factor in recline, given the short flight times, I did want to enhance privacy for passengers, hence the addition of lateral 'ears' to the headrests.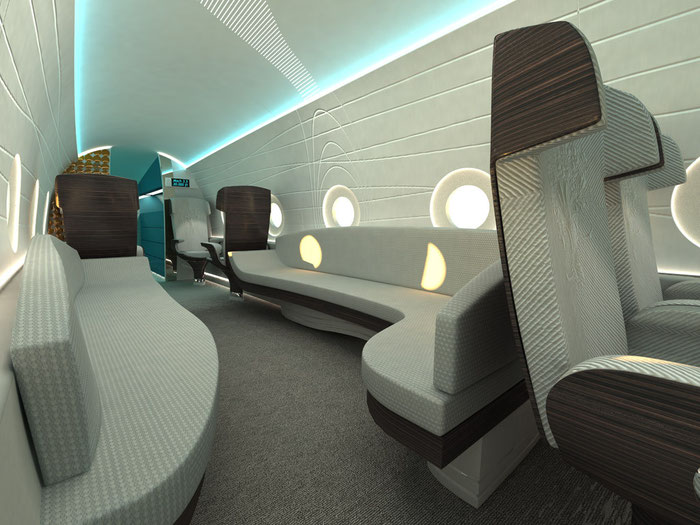 Social area
Two fluid-shaped divans create a social area in the middle of the aircraft, also acting as a transition zone between the VIP seating of the front and the more corporate layout at the rear. Although the sidewalls throughout the cabin are decorated with lateral lines, in this area they are intersected by more curved ones, visually compensating for the lower height of the divans.

Corporate seating
The rear of the aircraft is more geared towards corporate use, with a club four followed by four forward-facing seats. The club four was added to enable working sessions and dining.
Text inspired by an interview made by Isabel KIngton for "Business Jet Interiors" magazine.
Interior design concept, external livery & 3D computer renderings for the SonicStar HyperMach project by Yelken Octuri
The Cuban Granny's photograph by Sophie Larochelle
All rights reserved